How to add your website to Google Search Console
As a beginner to Google Search Console, are you struggling to create Google Search Console account to link with your website? Don't worry! 
I will you the step by step way to integrate your business or personal website with Search console.
How to set up google search console in 2020?
What is Google search console (GSC)?
Google Search Console is a FREE tool or software, where website owners can easily view, monitor and track their website's presence in Google search ranking or Search Engine Results Page (SERP). Using Google Search console, we can view various reports like Performance of website, High Traffic queries, High Traffic Location (Users Geography) and Device platforms. During, the year 2015 May month – Google has officially renamed their "Google Webmasters Tools" as "Google Search Console".
How to add website in Google search console?
Step 1: Go to Google type "Google Search console" (or) click on this link to enter directly to Search console Dashboard – Google Search Console Setup.
Step 2: Add your website in the Website field. Say as example, www.niranjanramesh.com
Step 3: Now, you have to verify the Google Search console with your website.
Follow the below image: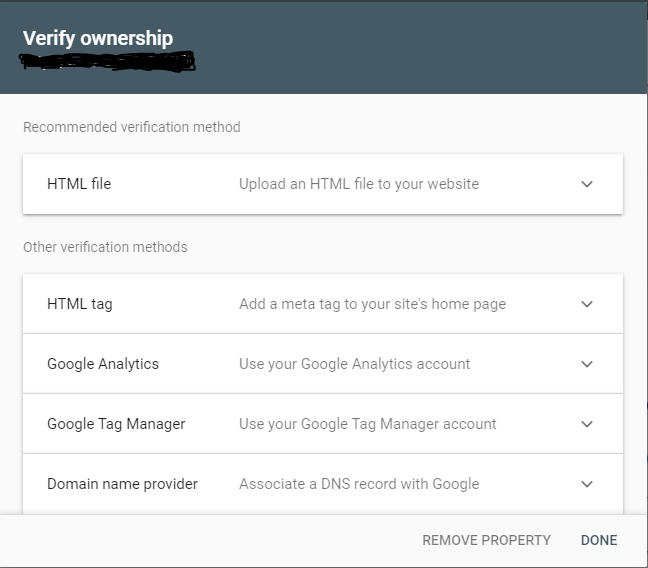 To verify your website, Google search console has 5 ways to verify to do the process:
HTML file (Upload an HTML file to your website) – This is one of the most recommended way to easily verify your website.
HTML tag (Add a meta tag to your site's home page) – Most cases, I used this method to verify
Google Analytics (Use your Google Analytics account)
Google Tag Manager (Use your Google Tag Manager account)
Domain name provider (Associate a DNS record with Google)
To implement using second step, you have to get Meta tag to add it inside your website's header tag of HTML code. Once it was uploaded successfully. Then you click on the "Done" button as shown in the above picture.
Once it is done, Google search console will check and verify the status of website within a fraction of seconds.
After successful verification, now you have to click on the "Go to Property" button. Then, the screen will redirect you to the Dashboard of Google Search Console tool.
Similar to the above image, Google search console dashboard view will be visible with NO Data in all the tabs (Overview, Performance, Coverage). Google doesn't count the traffic or impression of website which was made earlier before integrating or merging with Google Search Console.
From now, each and every impressions count will be recorded inside this Google Search Console (GSC) – Webmaster Tools. This is one of the amazing FREE tools for webmaster's, SEO Analyst, Digital Marketing Executive, Digital Marketing Manager's, Freelancers, Consultant in Online marketing, Entrepreneurs and Bloggers. They all can easily monitor their Organic impression, Performance report analysis and lot more feature like Sitemaps requesting, URL Inspection (Previously it was "Fetch, Fetch & Rendering" feature in Webmaster Tools before 5 years)
I hope you have gained valuable information for FREE!
To know more updates in #DigitalMarketing as a video content – Do subscribe to my Youtube channel. Go below and subscribe NOW…
Also, I would to show you how the complete Google Search Console will looks like after recording data results:
Similar to the above picture, your Google search console account will also started recording data's from Google SERP (Search Engine Result Page) and displays it here.
Interested to earn money online from 3 to 5 Lacs? – Click here (Limited Offer)

Use this special OFFER now!

#DigitalMarketingInfluencer – Niranjan
Deep diving to the terms mentioned in Search console:
Total Clicks. (Total clicks is define from how many a single user is clicked to your website from search results)
Total Impressions. (Total impressions is calculated based on the number of times a user has saw your website URL or link in the Google search results, when they search for certain keyword or query)
Average CTR. (CTR means Click through Rate. It is defined on the percentage of impressions that resulted in a click) Formula to calculate CTR is Clicks/Impressions.
Average Position. (Based on the keyword enters, position in which your site appears called Average position)