Tamil Nadu has seen enormous growth in terms of social media, especially in the last 5 years. The Election Commission orders the political parties and their leaders to refurbish their sites with necessary up to date information during the election season. Studies show that today, social media and networking is a term that everyone knows. Even in the most remote areas of the world youngsters have at least heard of Facebook, Twitter, Gmail, Whatsapp, Instagram and Youtube and are probably using them regularly. So politicians and parties can have a huge reach by actively participating in Social Media campaigns. It develops a sense of trust among the youth.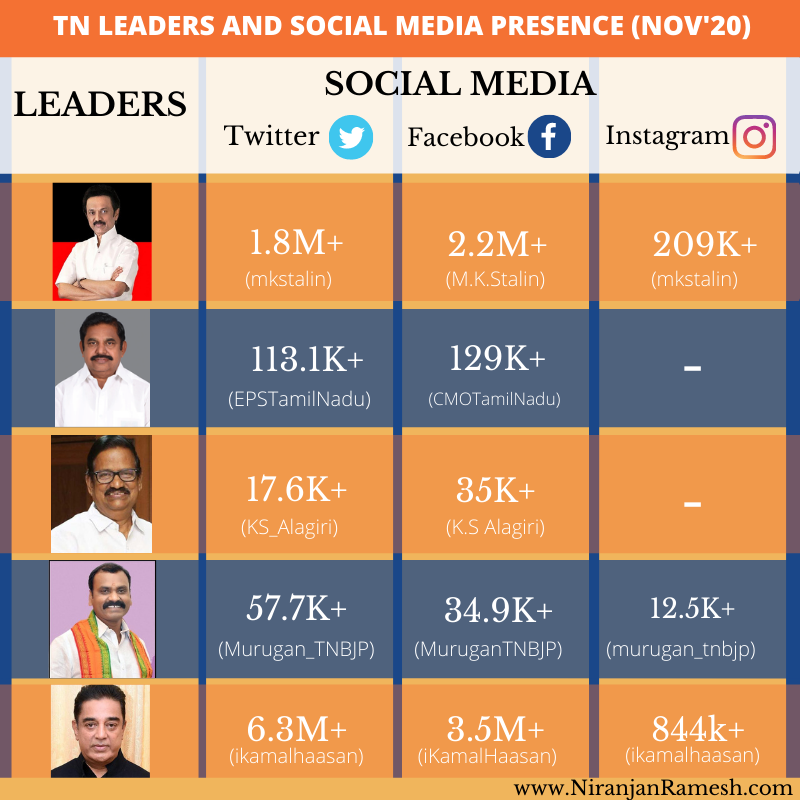 RECENT SCENARIO OF POLITICAL PARTIES IN TAMIL NADU
DMK (Dravida Munnetra Kazhagam)
| | |
| --- | --- |
| Founder | C. N. Annadurai |
| Year | 17 September 1949 |
| Leader | M. K. Stalin |
After the past elections DMK has decided to up their social media game with new profiles for each district on Instagram that posts regular updates about the party's activities in their districts. Twitter and Facebook fandom has also increased for both the leader as well as the party. It's all set to face the upcoming elections. Being active on social media can help them capture the hearts of the youth of the state. DMK has the highest Twitter following among all the other parties in the state. The social media team of the party is very active with keeping up with the updates on twitter with one almost new tweet every few hours.
On Facebook the party has 822k likes and 465.2K followers on Twitter, outperforming all the other parties.
AIADMK(All India Anna Dravida Munnetra Kazhagam)
| | |
| --- | --- |
| Founder | M. G. Ramachandran |
| Year | 17 October 1972 |
| Leader | Edappadi K. Palaniswami |
This is the current ruling party in Tamil Nadu at the moment. Facebook likes count has increased to 267K likes. The party leader Edappadi K. Palaniswami who is also the Chief Minister of Tamil Nadu at the moment is active on twitter but he is still not available in other platforms. His recent announcements have gathered attention form youngsters and there are new accounts popping up in his name all over the SNSs.
The party has 309.4K followers in Twitter and 267K likes on Facebook making it only the third largest in Tamil Nadu after DMK.
PMK (Pattali Makkal Katchi)
| | |
| --- | --- |
| Founder | S. Ramadoss |
| Year | 1989 |
| Leader | G. K. Mani |
The party decided to work on its social profiles when they were nearing the 2016 elections, and the party is far better in position when compared to its past performance. Beginning from just a mere number of 8K followers before 2016 elections the party has now reached 47K likes on Facebook. The growth has been slow but steady without ups and downs.
BJP (Bharatiya Janata Party)
| | |
| --- | --- |
| Founders | Atal Bihari Vajpayee, L.K Advani |
| Year | 6 April 1980 |
BJP is the most active party on internet with 1 million likes on Facebook which becomes the highest for any party in the state, though #GobackModi often comes under the state's trends, the waves have still hit hard as it is evident from the party's social media. Otherwise the party hasn't been very successful in the state except for their social profiles across all platforms.
They also have accounts on Twitter that has 321K followers and 23.7K followers on Instagram for the party's TN accounts.
The party's website also gives quick access to becoming a member just by giving a missed call.
INC (Indian National Congress)
| | |
| --- | --- |
| Founders | Allan Octavian Hume, Dadabhai Naoroji, Dinshaw Edulji Wacha |
| Year | 1885 |
| Leaders (State) | K.S. Alagiri |
One of the oldest parties of the country and the third most recognised party in Tamil Nadu after DMK and AIADMK is Indian National Congress. The party has been consistent in maintaining their social media base with TN Twitter account at 126K followers and Facebook at 118K followers. There has been a significant increase in the number of followers on all their handles for the past 2 years.
The party's National leader Sonia Gandhi is not available on any platform while the party's state leader K.S Alagiri has a follower count of 17K on Twitter. That's a gradual increase.
DMDK (Desiya Murpokku Dravida Kazhagam)
| | |
| --- | --- |
| Founder | Vijayakanth |
| Year | 14 September 2005 |
| Leader | Vijayakanth |
The party has been on and off on social media game, and has 27K likes on Facebook with the party's leader grossing an estimate of 411K like on the same platform. The party's leader's accounts are single handedly used for creating awareness of their campaigns rather than using their party accounts.
The party has steadily increased from 12K followers before 2016 elections and expected to increase further during the upcoming election campaigns.
The party definitely needs to give a comeback to establish themselves among their social media audience else it'll still make their hard work on campaigns worthless. They still haven't come up with official accounts, and there are several accounts around these platforms claiming to be the original and official ones, leading to an increased confusion.
MNM (Makkal Needhi Maiam)
| | |
| --- | --- |
| Founder | Kamal Haasan |
| Year | 21 February 2018 |
| Leader | Kamal Haasan |
The party was started recently and has mainly been in spotlight solely because of its founder and actor Kamal Haasan. He launched the party in 2018 and directly contested in that year Lok Sabha elections. The party's fandom comes majorly from the cine stars fame and his speeches that instigate inspiration among his audience.
The party has 96K likes on facebook and 165K followers on twitter making it the party's largest audience base in any social media platform. The Instagram account is also verified with 34.8k followers. This is a huge accomplishment and can be of help when the election campaigns start firing up.
AMMK (Amma Makkal Munnetra Kazhagam)
| | |
| --- | --- |
| Founder | T. T. V. Dhinakaran |
| Year | 15 March 2018 |
| Leader | V.K Sasikala |
Amma Makkal Munnettra Kazhagam was started by TTV Dhinakaran, who instilled both positive and negative responses during that time. Nonetheless the leader has good support on his social media notably on Twitter with 229K followers on Instagram and 111k likes on his facebook page with a verified account and has been an image of representation for the party, though the party's performance on Twitter is questionable. They have an official Facebook page with 30K likes making it the only account that the party can claim as official while there are several accounts that have been started on behalf of the party by the members and supporters.
PMK (Pattali Makkal Katchi)
| | |
| --- | --- |
| Founder | S. Ramadoss |
| Year | 1989 |
| Leader | G. K. Mani |
Pattali Makkal Katchi's social media status is very low with their facebook account being the only handle that the party has been consistent with. Parties really do need to be considering their internet audience as a major part of their campaigns these days because a large number of audience can directly be impacted from their posts and activities on social media.
Their facebook page has 47K likes.
NTK (Naam Tamilar Katchi)
| | |
| --- | --- |
| Founder | S. P. Adithanar |
| Leader | Seeman |
Naam Tamilar Katchi is simply an organization recognized as run by Seeman who creates a buzz every time he comes up to give a speech on the stage. Several hashtags and tweets circulate around for some time after his speech comes out and one cannot deny the fact that there'll be opposition as well as support.
The leader has enmassed a good supporter base although he doesn't have profiles on any platform. The party's Twitter handle has 217K followers.
VCK (Viduthalai Chiruthaigal Katchi)
| | |
| --- | --- |
| Founder | Thol. Thirumavalavan |
| Leader | Thol. Thirumavalavan |
Thol. Thirumavalavan being the leader has a facebook page with 224k likes and twitter that has 198K followers. That's a huge growth as compared to their past profile reviews. His party has no participation in any platforms which only justifies why the leader's handles have been growing immovably.
KMDK (Kongunadu Makkal Desia Katchi)
| | |
| --- | --- |
| Founder | E.R.Eswaran |
| Leader | E.R.Eswaran |
KMDK's only official space is in facebook where the party holds tight to a little more than 17K likes, otherwise the party leader E.R Eswaran also has a facebook page with 34K likes.
MDMK (Marumalarchi Dravida Munnetra Kazhagam)
| | |
| --- | --- |
| Founder | Vaiko |
| Leader | Vaiko |
MDMK has absolutely no recognition in social media. They do have unofficial pages in support of their leader and his mottos. Otherwise there is zero contribution from the party's side.
DK (Dravidar kazhagam)
| | |
| --- | --- |
| Founder | Periyar E. V. Ramasamy |
| Year | 27 August 1944 |
| Leader | K. Veeramani |
Dravida Kazhagam has often been tagged for their controversial speeches in tweets and several mentions across social media, but the party doesn't approve of any social media handles.